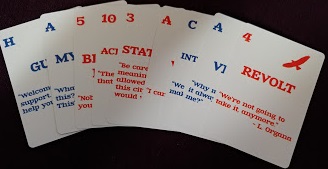 My test deck has arrived!
Today, I finally got my test deck in the mail, and it looks fantastic! Of course, while waiting for it, I thought of changes I'd wished I made, and made those changes, so now need to print another test deck before I can sell the deck through Drivethrucards. This is smart on their part, but smarting on mine! I'm impatient!
All good, though. Seems like shipping for one deck and eight decks are the same price, so I'm buying 8 test decks, so I have some on hand for playtesting my games with.
Working on my goals!